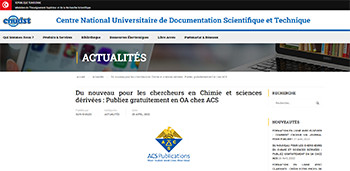 La Société Chimique de Tunisie a le plaisir de vous annoncer que le Centre National Universitaire de Documentation Scientifique et Technique – CNUDST, nous informe de la validation par la commission des marchés publics de l'abonnement American Chemical Society avec le modèle Read & Publish. La soumission des articles dans le cadre de ce modèle est entrée en vigueur. L'annonce faite sur le site du CNUDST vous apportera de plus amples informations :
http://www.cnudst.rnrt.tn/nouveau-chercheurs-chimie-sciences-derivees-publiez-gratuitement-oa-chez-acs/
Le Président de la Société Chimique de Tunisie sollicite les collègues, chercheurs et doctorant(e)s de bien saisir l'occasion de publier dans les journaux de l'American Chemical Society (ACS) afin de citer les articles pertinents publiés dans notre journal Chemistry Africa (CHAF). (https://www.springer.com/journal/42250 )
C'EST LA SEULE ET UNIQUE MANIÈRE D'AUGMENTER LA VISIBILITÉ DU JOURNAL DE LA SCT, D'ACCROITRE LE NOMBRE DE SES CITATIONS ET LUI PERMETTRE D'ACQUÉRIR UN FACTEUR D'IMPACT.
Pour rappel, de très prestigieux journaux de l'ACS, à commencer par Chemical Reviews (Impact Factor 2020: 60,622) , ont cité notre journal. En voici des exemples extraits de « Web of Science »:
1) Synthesis and Evaluation of 1,3,5-Triaryl-2-Pyrazoline Derivatives as Potent Dual Inhibitors of Urease and alpha-Glucosidase Together with Their Cytotoxic, Molecular Modeling and Drug-Likeness Studies
Mehmood, R; Sadiq, A; (…); Ahmed, SA
Feb 1 2022 | Jan 2022 (Early Access) | ACS OMEGA 7 (4) , pp.3775-3795
2) Cationic UV Curing of Bioderived Epoxy Furan-Based Coatings: Tailoring the Final Properties by In Situ Formation of Hybrid Network and Addition of Monofunctional Monomer
Pezzana, L; Melilli, G; (…); Sangermano, M
Dec 27 2021 | Dec 2021 (Early Access) | ACS SUSTAINABLE CHEMISTRY & ENGINEERING 9 (51) , pp.17403-17412
3)  Green Hydrogel-Biochar Composite for Enhanced Adsorption of Uranium
Akl, ZF; Zaki, EG and ElSaeed, SM
Dec 21 2021 | Dec 2021 (Early Access) | ACS OMEGA 6 (50) , pp.34193-34205
4) Synthesis and a Catalytic Study of Diastereomeric Cationic Chiral-at-Cobalt Complexes Based on (R,R)-1,2-Diphenylethylenediamine
Emelyanov, MA; Stoletova, NV; (…); Larionov, VA
Sep 20 2021 | Aug 2021 (Early Access) | INORGANIC CHEMISTRY 60 (18) , pp.13960-13967
5) Plastic Pollution: A Perspective on Matters Arising: Challenges and Opportunities
Iroegbu, AOC; Ray, SS; (…); Sardinha, JP
Aug 3 2021 | Jul 2021 (Early Access) | ACS OMEGA 6 (30) , pp.19343-19355
6) Magnetic Nanoparticles: From Synthesis to Theranostic Applications
Khizar, S; Ahmad, NM; (…); Elaissari, A
May 28 2021 | May 2021 (Early Access) | ACS APPLIED NANO MATERIALS 4 (5) , pp.4284-4306
7) Development of High-Molecular-Weight Fully Renewable Biopolyesters Based on Oxabicyclic Diacid and 2,5-Furandicarboxylic Acid: Promising as Packaging and Medical Materials
Zhang, HY; Jiang, M; (…); Zhou, GY
May 17 2021 | May 2021 (Early Access) | ACS SUSTAINABLE CHEMISTRY & ENGINEERING 9 (19) , pp.6799-6809
8) Singlet Oxygen Quantum Yields in Environmental Waters
Ossola, R; Jonsson, OM; (…); McNeill, K
Apr 14 2021 | Mar 2021 (Early Access) | CHEMICAL REVIEWS 121 (7) , pp.4100-4146
Par ailleurs, d'autres journaux à très haut facteur d'impact, publiés par d'autres maisons d'édition prestigieuses, ont cité CHAF. En voici quelques exemples.
Royal Society of Chemistry
Chemical Society Reviews; FI= 54.564, 2 articles CHAF cités
Polymer Chemistry; FI= 5.582, 2 articles cités
Catalysis Science and Technology; FI=6.119, 1 article cité
Elsevier
Bioresource Technology; FI=9.642, 5 articles cités
Chemical Engineering Journal; FI=13.273, 3 articles cités
Journal of Cleaner Production; FI=9.297, 2 articles cités
Advanced Drug Delivery Reviews; FI=15.47, 1 article cité
Catalysis Today; FI= 6.766, 1 article cité
Wiley
ChemElectroChem; FI=4.59, 1 article
Wiley-VCH
The Chemical Record; FI=6.771, 1 article cité
Taylor and Francis
Critical Reviews in Solid State and Materials Sciences; FI=10.367, 1 article
Electrochemical Society
Journal of the Electrochemical Society; FI= 4.316, 2 articles
Springer
Biomass Conversion and Biorefinery; FI=4.987, 7 articles
Catalysis Letters; FI=3.186, 1 article
MDPI
Nanomaterials; FI=5.076 , 6 articles
Catalysts; FI=4.146, 4 articles
Frontiers Media
Frontiers in Chemistry; FI=5.221 , 2 articles
Merci de diffuser cette information et SVP n'oubliez surtout pas de citer les articles pertinents publiés dans le journal de la SCT : Chemistry Africa (ChAf).